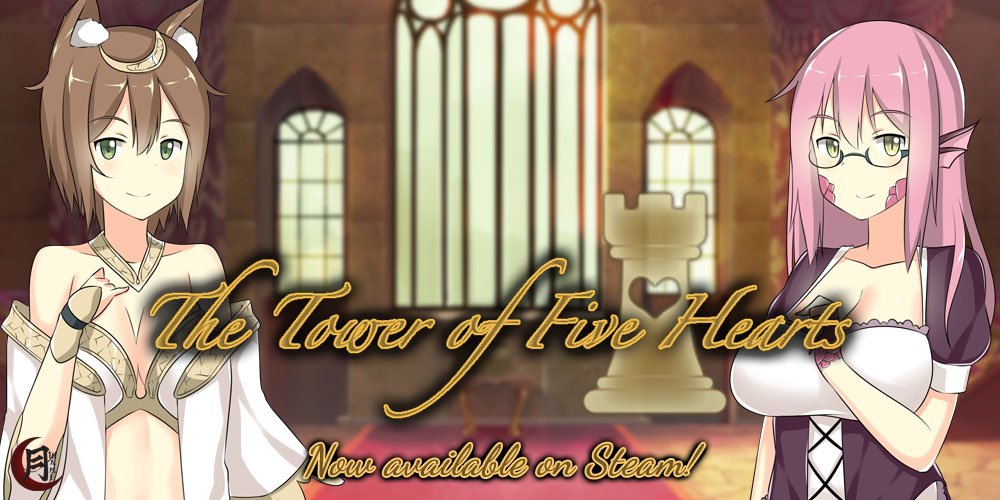 My teams (TsukiWare) 2nd project The Tower of Five Hearts is now available to buy on steam.
Tower of Five Hearts steam community hub.
Its also been available on
Mangagamer
,
Nutaku
,
Fakku
&
Eroges
for the french version exclusively.
Description as matching with the steam store. Please note this game is fully uncensored on steam and all platforms that its selling on.
MATURE CONTENT DESCRIPTION
Masturbation, Consensual Sex, Cunnilingus , Fingering, Threesome & lots of kissing by female characters with animal ears.
Story
There are five continents of roughly-equal size, side-by-side, and all of them meet to an approximate point in the middle. At this meeting of borders, there is a tower:
The Tower of Five Hearts.
One Royal Family is in charge of upholding the peace for every continent, by marrying off their child to a prospective girl from one of the continents.
It's more of a contest-five girls trying to be Maids, in the hope that their master (the Prince) will fall in love with them...
However this time, it's a
Princess
.
Features
A cute and adorable yuri visual novel featuring kemonomimi (animal ears)!
Play the role of a princess to find the girl meant for you!
Over 10 Hscenes to explore!
Multi-platform Support! (Windows, Mac, and Linux)
Maids!
---
Any future content for the game will be free dlc. Will one pre story currently in the works.
Last edited by a moderator:
1

1